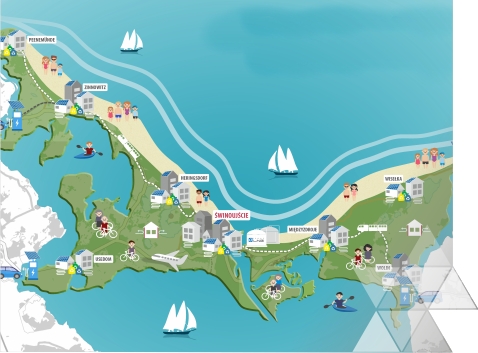 Islands of Usedom and Wollin Model Region of Renewable Energy
Project  MoRE 'Islands of Usedom and Wollin Model Region of Renewable Energy' is carried out within the framework of the '  Interreg V A Meckleburg– Vorpommern / Brandenburg / Poland. Program, axis IV – cross-border co-operation'.
Key message: The analysis of a potential and possibilities of use of renewable energy sources taking into consideration a cross-border area of the islands of Usedom (Uznam) and Wollin (Wolin).
Key areas of activities within the project: land planning, energy effectiveness, energy mix and analysis of possible use of the renewable energy for the generation of heat, electricity and mobility, protection of landscape and natural values, and social acceptance taking into consideration seasonal increase in energy demand..
 The specific goal of the project is to intensify the Polish-German institutional co-operation with regard to energy and planning issues in terms of the cross-border approach taking into consideration awareness oriented activities that would require the co-operation of a large group of stakeholders from Poland and Germany.
 The outcome of the action taken would be to propose an optimum energy basket and make assumptions on how to develop a model region of renewable energy in the context of  the tourist seasonalness, energy effectiveness and independence, CO2 reduction and climate neutrality. The relevant provisions of planning and strategic documents and a joint declaration of partners on the implementation of  renewable energy model region ideas would result in the identification of involvement directions concerning the energy transformation on the islands of Usedom (Uznam) and Wollin (Wolin).
Project partners: Regional Office for Spatial Planning West Pomerania – a leading partner, West Pomeranian University of Technology in Szczecin,   City of Świnoujście, Township of Międzyzdroje and Ministry of Energy, Infrastructure and Digitalization of Vorpommern (Schwerin, Germany).
Associate partners: University of Szczecin, State Agency for Energy and Climate Protection of Mecklenburg Vorpommern (LEKA MV), Township of Wollin,  Office of Spatial Planning and Country Planning of  Vorpommern (AfRL), District of Vorpommern -Greifswald.